I woke up yesterday morning with the strong conviction that the flu was knocking on my door. I reluctantly skipped yoga and consulted my cousin Pam for the best way to launch an all-out counter-assault on an attacking flu. I find myself calling Pam often for all sorts of tips like this (e.g. "Pam, I'm standing in Stop & Shop staring at twelve different species of apple. Which type will deliver to me the most in desired tartness?").
She directed me to the health food store in Beverly Farms, where I picked up some little pellets to swallow, along with some sticky pills that smelled not unlike the day-old headless chipmunks of the type that my parents' cat delivers regularly to their front stoop. I am keeping the sickness at bay, but I'm pretty sure that the main side effect last night was my dream synapses firing off in a thoroughly unregulated fashion. I woke up this morning feeling as if my overnight brain had been a gross of bottle-rockets soaked in gasoline and lit.
We begin on a Russian nuclear submarine.
Russian nuclear sub
The bearded Russian captain is giving a tour to CBS anchor Bob Schieffer and me. However, Schieffer weighs about 300 lbs., and he's wearing a comfortable rose-colored sweatshirt and acid-washed jeans.
CBS anchor Bob Schieffer
Also unusual is the fact that there seems to be a major leak that is going undiscussed (collision? torpedo?); the water is up to our necks, and nobody seems to be too bothered about it. By the way, the interior of the sub is actually the interior of Copley Hall, an old dorm on the Georgetown campus.
Copley Hall, Georgetown University
This is weird to begin with, but it's also strange because I've never even been in Copley (it's one of those creepy dorms that none of your friends, or friends' friends, or friends' friends' friends lived in).
Next, I'm in a ski lodge with John Seitz, and he's taking me through a secret passageway to a subterranean set of rooms sort of like the place on Mars where Arnold Schwarzenegger meets Quato in Total Recall.
Instead of encountering a rebel leader emerging from the chest of a freedom fighter, we just sat around with some preppy kid on threadbare sofas and couches. It felt like an old common room at a boarding school dorm. Although the little suite was secret, there were housekeepers cleaning up everywhere, so I guess they knew about it.
In a flash I'm on a yacht, cruising into the harbor at Ithaca, Greece with my pal Marty Marcus.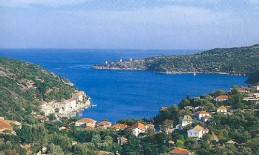 Ithaca
Unfortunately, the harbor is packed with gigantic, cheesy cruised ships, overflowing with windbreaker- and fanny-pack-adorned tourists. Not all I had hoped.
Cheesy cruise ship
Finally, I find myself on the Millenium Falcon with Luke Skywalker, Han Solo, and Chewbacca. We're talking original, Episode IV, 1977 stuff here. We somehow sneak the spaceship into a Death Star-like fortress.
The Millenium Falcon
I found myself wondering how we got past the security, and I figured that we probably had a 30% chance of success and had made it. Next, we had to disembark, wrap our legs around cables that were literally miles long, and slide headfirst down, miles and miles deeper into the floating city.
Well, that's it!